These are photos from the 1st Zombie Drive in 2008!
Over a 100 people came to Zombie Drive in 2008!
We got a lot of good comments on it and everyone that talked to us said they liked it. Some people wouldn't even roll their windows down!

---
Do not take/use photos without the owners permission. If you would like to use the photos for a website/blog email us at zombie.drive@yahoo.com and ask.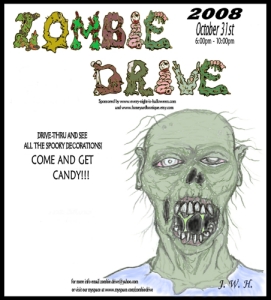 Flyer for 2008.
Art & Design by Dagon. Zombie Drive font is a free font found on the internet.
Comments (0) | Add a Comment